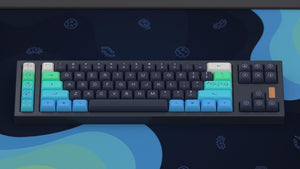 DSA Petrikeys
Inspired by the beauty of bioluminescence, DSA Petrikeys features a rich palette of colors and modular kitting to ensure versatility & affordability, so you can get only the keycaps you need.

Two deskmats and a Hibi metal artisan (plus metal tray) are available to complete the setup. Check the product page for full details.
PURCHASE NOW
GMK Shashin
Inspired by the art of photography, GMK Shashin features a sleek monochromatic palette and tasteful, effective novelties depicting photography equipment.
Two deskmats and two metal artisans are available to complete the set with aesthetic perfection. In stock now while supplies last!
PURCHASE NOW
MVKB Clear Scanner
Perfectly versatile, the MVKB Clear Scanner keycaps are smooth & transparent, made of polycarbonate w/ UV-printed legends finished with a protective coating over the entire surface.
Transform your keyboard from super minimal to the centerpiece of your desk just by enabling backlighting - the Clear Scanner keycaps are ready to adapt, with versatile kitting & ambiguous legends.
PURCHASE NOW
TONS OF SWITCHES!
A massive variety of switches are available as in stock now, with shipping in 1-3 business days & free stickers included in every order.
Whether it's budget switches to get the job done or luxury switches for an endgame board, browse from a broad selection from Gateron, Durock, KTT, & JWK - you're sure to find something you like.
BROWSE SWITCHES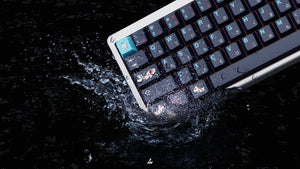 GMK Zen Pond
Pre-orders for GMK Zen Pond are now available!
An incredible and soothing set, GMK Zen Pond is inspired by calm relaxing Japanese Zen ponds & the Koi fish that swim in them.
With tasteful UV-printed novelties & a calming colorway, this set will bring the peace of Zen right to your keyboard.
Estimated to ship in September 2023.
PRE-ORDER NOW
GMK Electric
Pre-orders for GMK Electric extras are live!
Inspired by electrical engineering, Electric features a clean colorway accented by a shocking teal accent color. The two novelty kits feature a wide variety of electrical symbols such as transistors, AC/DC power, diodes, inductors, capacitors, NAND gates, resistors, and more! 

Estimated to ship in September 2023.
Pre-order Now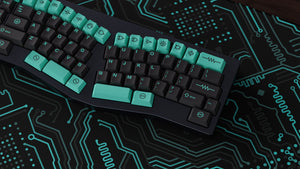 Join the vala supply discord server!
‌‌ ‌‌ ‌‌ ‌‌ ‌‌ ‌‌ ‌‌ ‌‌ ‌‌ ‌‌ ● Giveaways every week! (one live now)
‌‌ ‌‌ ‌‌ ‌‌ ‌‌ ‌‌ ‌‌ ‌‌ ‌‌ ‌‌ ● Role based leveling system with rewards
‌‌ ‌‌ ‌‌ ‌‌ ‌‌ ‌‌ ‌‌ ‌‌ ‌‌ ‌‌ ● Store announcements & updates
‌‌ ‌‌ ‌‌ ‌‌ ‌‌ ‌‌ ‌‌ ‌‌ ‌‌ ‌‌ ● Active mechanical keyboard discussion
‌‌ ‌‌ ‌‌ ‌‌ ‌‌ ‌‌ ‌‌ ‌‌ ‌‌ ‌‌ ● A good time with an amazing community :)
CLICK HERE TO JOIN